Enjoy The Peace Of Mind That Comes With

Knowing Your Tenants Are Happy
Increased Occupancy Rates
Enjoy higher revenue with more booked out units
Increase Lead To Lease
Get positive feedback about your facilities, leading to higher conversion rates
Decrease Tenant Turnover
Top-notch amenities keep great tenants in your properties
Improve Employee Performance
Teams are excited to use the platform as it allows them to operate in an efficient and proactive manner
Higher Tenant Satisfaction
Ensuring safe and compliant amenities will ensure top-notch customer satisfaction
Improve Online Ratings
No longer will you get negative reviews for your pools and spas impacting your bottom line
Decrease Injury Incident Rate
Ensuring compliance and safety daily will result in better risk management and decreased incidents
Our Client
Success
Learn how we're helping multifamily properties, owners, and management groups
increase safety and compliance while achieving savings across the board

VivoPoint has given me the freedom to manage all of my water facilities from my phone, wherever I am. As someone that is constantly driving from apartment building to building, having remote access to the reports and daily logs is priceless. I also really appreciate the instant notifications. I'm able to see exactly what needs to be inspected or repaired the moment it becomes an issue. Increase Your
Bottom Line
Savings can be achieved by implementing best practices and standards for your pools and spas.
This helps you save money as well as increase your sustainability footprint which can be used for positive property and brand reinforcement

Automate Preventative Maintenance
Reduce the risk of future mechanical issues by properly caring for your pool equipment

Reduce Repair And Maintenance Costs
Catch issues before they become expensive problems that increase your overhead

Increase Your Sustainability Footprint
Decreased water and chemical usage helps you improve your sustainability- helping the environment and your brand reputation
Just How Much Do
Our Clients Save?
Savings In Chemical Costs
Powerful Solutions For Property Owners And Management
Companies Serious
About Operational Efficiency And Growth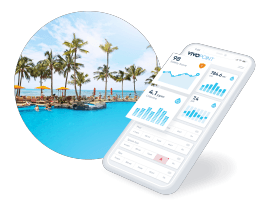 Reduce costs, stay compliant and help your staff & vendors with checklists, digital log books, training, and 7-day support.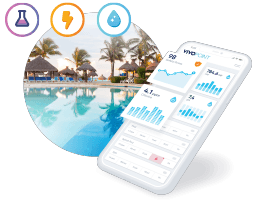 Reduce risks and improve productivity through real-time monitoring (water safety, water usage, humidity, and more) with our IoT hardware platform (e.g., chemical controllers, and sensors).
MOST POPULAR
Experience Fewer Vacancies By Ensuring Tenant Satisfaction
Schedule a meeting to learn how VivoPoint maintains safe water and tenant-friendly user operational performance to keep your residents safe and obtain longer tenancy